Archive for 'Comic'
301 items.

~*~dreamy sigh~*~
Not pictured: on the way down to the Calvin & Hobbes exhibit, I slipped and landed square on my butt. u-u
That night, I sat down on my bunk bed and hit the butt bruise; I jumped, hit my head on the top bunk, fell to one side, and hit my head on the side of the bed, just laughing like a maniac the whole time. u_____u
i am an adult
February 5th, 2015
|
by gale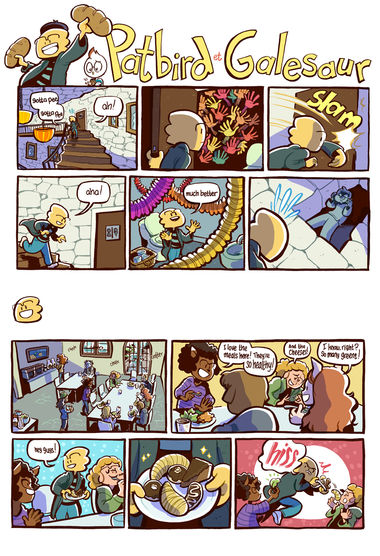 Hi! Hello! Sorry for the silence, you guys – something something France thesis aaaaaaah!
So here are some comics about life right now!
1) The bathrooms where I'm staying. They're weird. Sometimes the hands fall off the wall. Sometimes you forget they're there, and then, out of the corner of your eye, hands.
2) It is really weird not having to cook anything. And eating from each of the major food groups, and also all of the bread and pastries thank goodness we walk all over the place.
But yeah!! HOW ARE YOU GUYS, I MISS YOU. More soon…!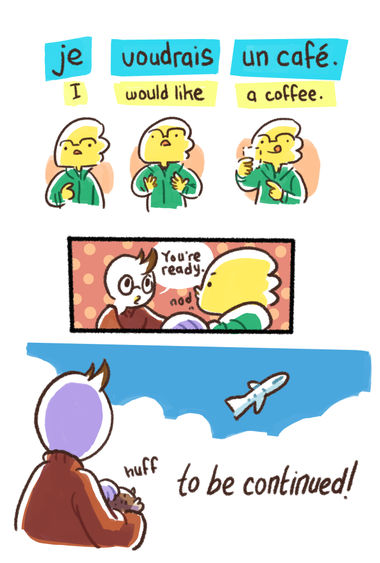 Gasp!!
Tomorrow, I will be on my way to Lacoste, France, to study abroad, eat baguettes, and ogle all the bandes dessinées! Garrus and Lemon will enjoy the next eight weeks under Patbird's capable wing (but not too much because I am the best and he will never replace me as their favorite do you hear me Patbird). And I will do my best to keep you posted via here/twitter/tumblr!
Je… voudrais… un café…!!
January 1st, 2015
|
by gale
December 18th, 2014
|
by gale
December 4th, 2014
|
by gale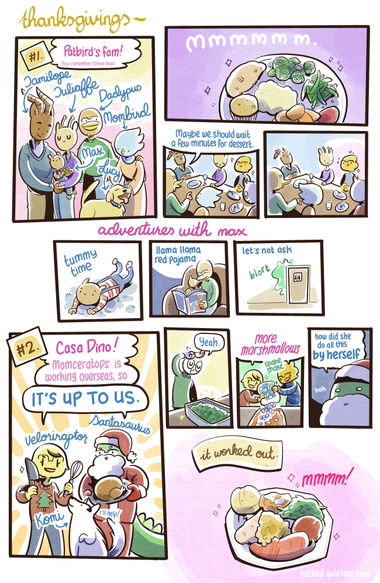 Hope you had an awesome Thanksgiving – we sure did! I could eat, like, ten more trays of those sweet potatoes. u-u♥
November 20th, 2014
|
by gale

Hey guys! Sorry things have been all over the place recently – finals were killer!
So this week, I'm going to show you one of my assignments! I chose to do a silly story about my first nightmare. Read it over here!

Oooooh! A comic starring Garrus and … a mysterious pink creature?
One of my classes had a great minicomic assignment, and this is the result! I'm going to be selling a few of them at this weekend's Mini Comics Expo – if you're around Savannah, please do come by! So many cool people are going to be there! Minicomics everywhere!!
October 24th, 2014
|
by gale

We met up in San Francisco! ;w;
Sorry for the delay! I'm still working on the rest, but thought I'd throw this first part down as a placeholder in the meantime. I'll sneakily replace it with the full story when it's done (very soon), and let you know via the social medias!
THANKS FOR YOUR PATIENCE!! YOU WILL BE REWARDED IN DRAWINGS OF SEA LIONS ♥
THERE ARE NOW SEA LIONS. And other things!! Thanks so much to all the awesome people we got a chance to see, as well as the givers of fantastic suggestions – you made our trip delicious! And many, many congratulations and hugs to Abbit and Owlessandro. Your wedding was amazing! ♥