Archive for 'Comic'
306 items.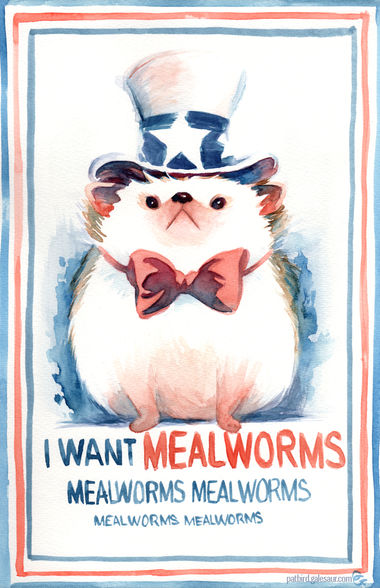 …that they are endowed by their Creator with certain unalienable rights, all of which involve the acquisition of Mealworms.
Happy holiday weekend, Stateside friends! And if you're elsewhere, um, happy regular-type weekend with bonus hedgehog painting!
June 25th, 2015
|
by gale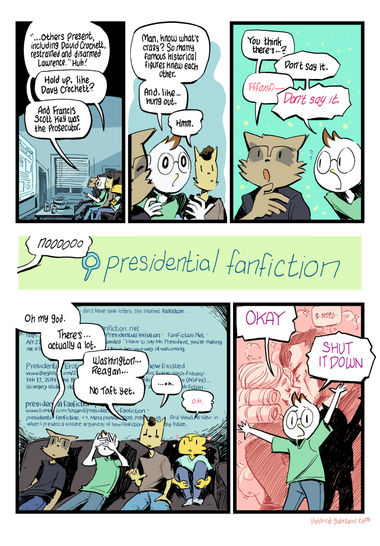 "Determine that the thing can and shall be done, and then we shall find the way."
-Abraham Lincoln, on Rule 34
June 19th, 2015
|
by gale

AHHHHHH! There are a few little things I want to come back and fix, but it's my birthday and I have to go birthdaying!!
THAT ASIDE – many congratulations to Chris and Teri!! Their wedding was lovely and fun! They are lovely and fun! You go, guys!! <3
June 12th, 2015
|
by gale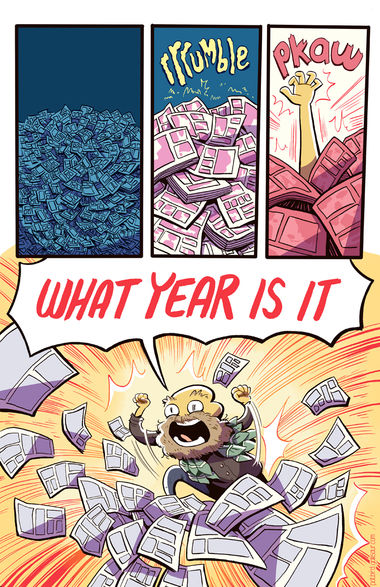 Hello!
HELLO!!
I'm pleased to announce that our (unintentional, unannounced, necessary but highly regrettable) hiatus is over. Grad school/thesis meant that I was working on a lot of comics, but not a lot of these comics, and I'm sorry for that.
But now we're rolling to the finish line! There's breathing room at the finish line! (You might be in art school if you notice yourself saying, "man I can't wait to be done drawing so I can get back to drawing.") HOW ARE YOU. Thank you for dropping by. Come back next week, there'll be another.

~*~dreamy sigh~*~
Not pictured: on the way down to the Calvin & Hobbes exhibit, I slipped and landed square on my butt. u-u
That night, I sat down on my bunk bed and hit the butt bruise; I jumped, hit my head on the top bunk, fell to one side, and hit my head on the side of the bed, just laughing like a maniac the whole time. u_____u
i am an adult
February 5th, 2015
|
by gale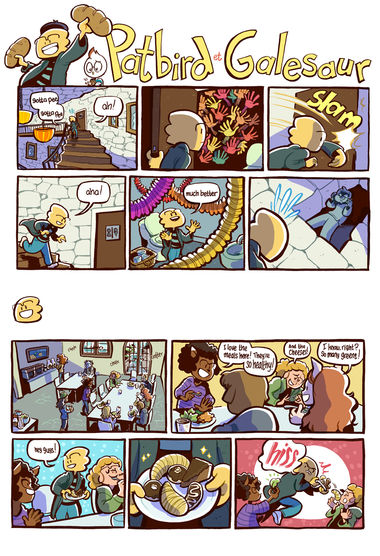 Hi! Hello! Sorry for the silence, you guys – something something France thesis aaaaaaah!
So here are some comics about life right now!
1) The bathrooms where I'm staying. They're weird. Sometimes the hands fall off the wall. Sometimes you forget they're there, and then, out of the corner of your eye, hands.
2) It is really weird not having to cook anything. And eating from each of the major food groups, and also all of the bread and pastries thank goodness we walk all over the place.
But yeah!! HOW ARE YOU GUYS, I MISS YOU. More soon…!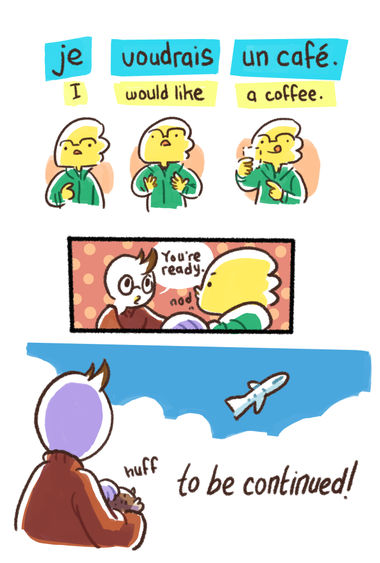 Gasp!!
Tomorrow, I will be on my way to Lacoste, France, to study abroad, eat baguettes, and ogle all the bandes dessinées! Garrus and Lemon will enjoy the next eight weeks under Patbird's capable wing (but not too much because I am the best and he will never replace me as their favorite do you hear me Patbird). And I will do my best to keep you posted via here/twitter/tumblr!
Je… voudrais… un café…!!
January 1st, 2015
|
by gale
December 18th, 2014
|
by gale