Archive for 'Comic'
162 items.
June 30th, 2011
|
by gale

DUH NUH NUHHHHHH!
First arc complete!  We'll probably be shifting away from this story and back into real life for a little while, as next month promises to be chock-full of wedding celebrations, Harry Potter viewings, moving to Michigan (!!), and other fun times.
See you next week!
June 23rd, 2011
|
by gale

Happy post-Father's-Day, guys!  Happy less than a month until Harry Potter! YEAH!
(The Moopherder Chronicles will resume shortly, never fear.)
June 16th, 2011
|
by gale

Hey, man, if I was told I had to leave my bromoops behind, I'd be pretty bummed too.
To all you dads and dads-to-be: happy Father's Day in advance! Next week we will probably see a regular PBGS, in celebration of that very delicious occasion.

(Holy continuing story arc, Patman! If you missed last week's comics, there were two and you can start from the beginning here!)
What could possibly be in store for our young hero? And how does Galesaur play into all of this? I GUESS WE MIGHT FIND OUT AT SOME POINT
Also, happy June! The year's just flying by, isn't it?

Two posts in a week? It's an all-new record! Where do I put in my initials?
I'd like to apologize wholeheartedly to Juliaffe, Patbird's super-awesome older sis. Your origin story is much too fantastic, and would probably cause monitors the world over to explode.
And… to be continued, again! I'll let you enjoy your Memorial Day weekends in peace, but expect the next gripping installment sometime around Tuesday (provided I have not expired from Too Much Fun).
Note: this might not be an entirely factual representation of how Patbird's parents got together.
I wanted to do something longer this week, but finally reached my arbitrary point-of-no-more-scrolling – so expect an update either tomorrow or Saturday. Historical moment, people!
In other news, the esteemed Greg Mourino has finished and uploaded his animation thesis for the world's viewing pleasure.  Go check it out!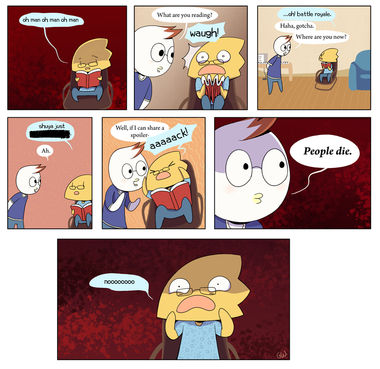 First of all, if you're visiting from Corpse Run, hi and welcome!   If you have no idea what I'm talking about, follow the link – Alex Di Stasi is a wisecracking, video-game-playing machine, and I have yet to see the day when he posts something that isn't funny or awesome or both. Alex, you're a cool dude!
Second, congratulations to you recent grads! Party hard, you deserve it.
And third, I would like to announce that I am now the proud owner of two bags of mangosteen gummies, courtesy the finest Japanese supermarket in New Jersey. I will do my best to make them last more than two days.
…well, it was worth a try.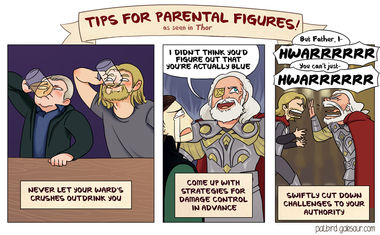 HWARRRRRRRR
Guys, if you haven't seen Thor, you totally should! It's a ton of fun, and also so many abs you will think you wandered into an Old Spice commercial by mistake, except it is an Old Spice commercial where the vacation destination is Asgard and they are fending off bizarre winter creatures I should not still be awake.