Archive for 'Comic'
162 items.
March 28th, 2012
|
by gale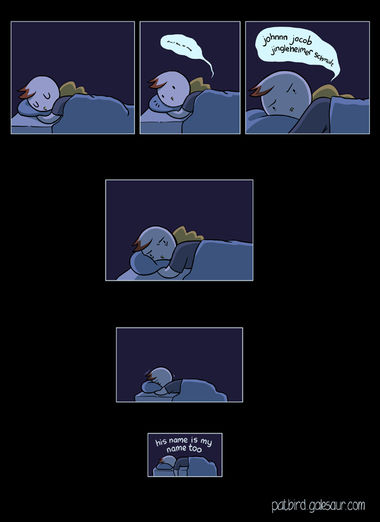 1. It's A Small World After All
2. Macarena
3. J.J.J.S.
4. that song about it being Friday
5. the "I Buy Sausage" part of the Lucky Star theme??
I want to ask what your worst earworms are, but at the same time, I fear that they would then become my earworms.
March 21st, 2012
|
by gale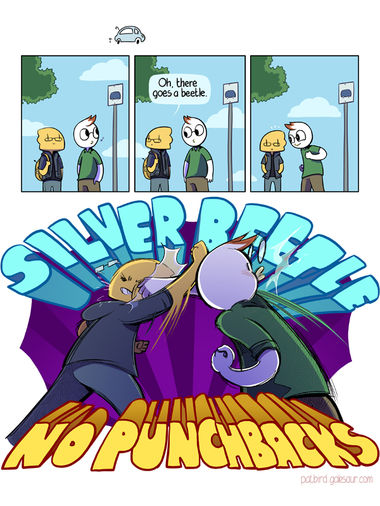 True story: this bitter battle has been ongoing for many years. I think Galesaur's win ratio is something like 18%, if we're being generous – a fact that's particularly sad when you consider that she started the game in the first place.
But, hey, revenge tastes best near a Volkswagen dealership.
March 15th, 2012
|
by gale

pros:
quiet companion that can bond to owners for life
fuzzy
kinda smart maybe?
cons:
initial cost
possibly short lifespan
lemon could get jealous?
March 9th, 2012
|
by gale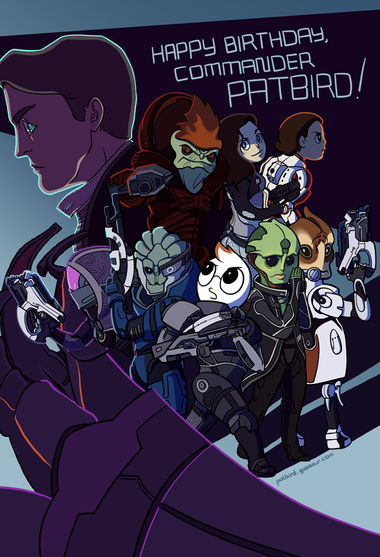 Oh man, guys, sorry for the wait! D:
In official-type news, I am pleased to announce that Patbird survived his birthday punches, and that he and his shiny new copy of Mass Effect 3 are getting along swimmingly. You go, Patbird! Show those Reapers what's up!
March 1st, 2012
|
by gale
February 15th, 2012
|
by gale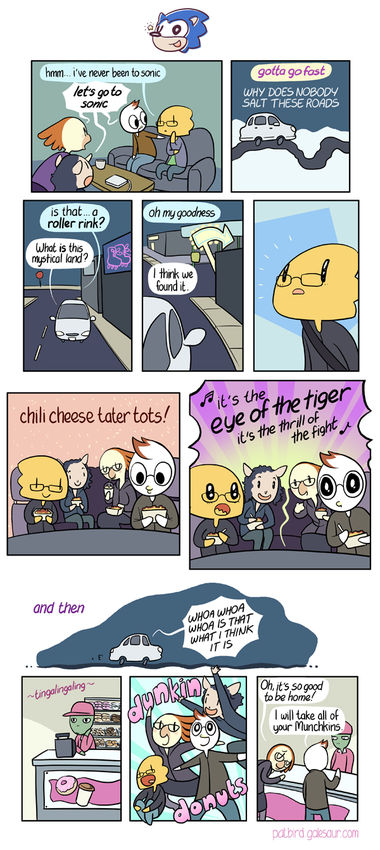 You have to understand!
1) In many places, including my hometown, there are ads on TV for this mysterious drive-in restaurant named Sonic, but no Sonics to be found. It's like a shiny Pokemon: kinda pointless, but very exciting. (To be fair, shiny Pokemon don't have a wide variety of slushy drinks. OHMIGOSH)
2) In Astoria, there were three Dunkin' Donutses within walking distance of our apartment.
3) Ann Arbor has a lot of things, but it does not have Dunkin' Donuts.  Shocking, I know!
February 9th, 2012
|
by gale

On the other hand, we now have something to keep working towards (aside from, you know, expanding our pool of trivia knowledge and enjoying the game).
February 1st, 2012
|
by gale
January 26th, 2012
|
by gale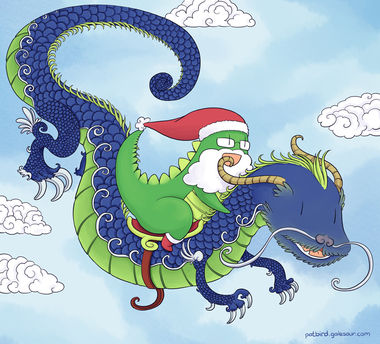 Oh man, gang, it's my year!  It might even be your year, too! Let's all celebrate and roar at things!
Also, a very happy birthday to Santasaurus (well… yesterday), who is still the very coolest dad. ♥