Archive for 'Comic'
163 items.
January 26th, 2012
|
by gale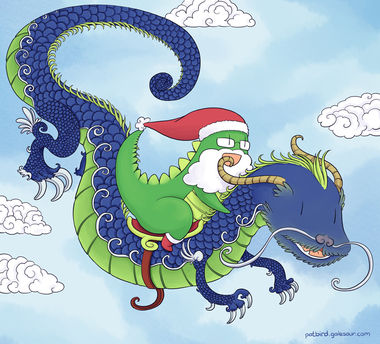 Oh man, gang, it's my year!  It might even be your year, too! Let's all celebrate and roar at things!
Also, a very happy birthday to Santasaurus (well… yesterday), who is still the very coolest dad. ♥
January 19th, 2012
|
by gale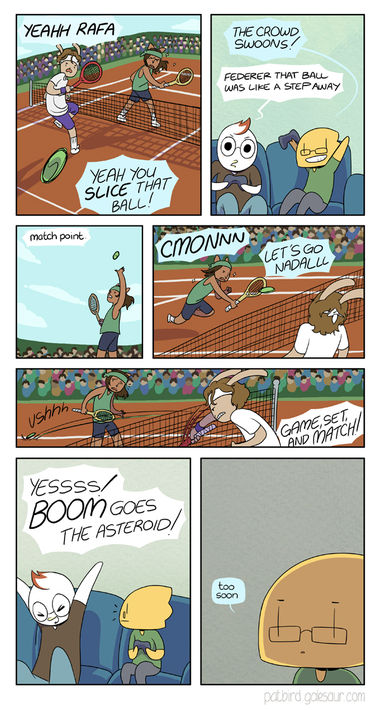 "BOOYA! GO BACK TO JURASSIC PARK!"
"I beat you so hard you exploded into dust and blocked out the sun!"
"You are obviously related very closely to the chicken! WAIT SO AM I, NEVER MIND"
January 12th, 2012
|
by gale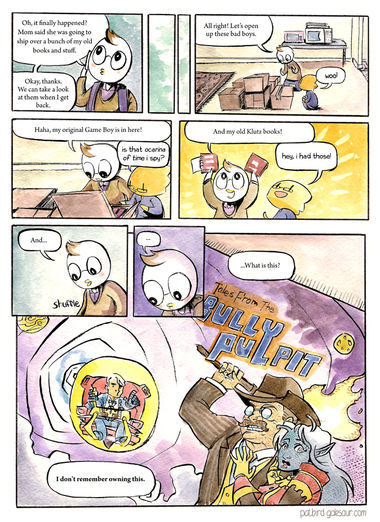 Goood afternoon, True Believers!
The comic book Patbird unearthed is one that no household should be without: Tales From the Bully Pulpit. "Join rough-riding President Theodore Roosevelt and the ghostly remains of Thomas Edison as they blast off to the future of the Red Planet and get entangled in the burning barbed wire of action!"
Don't mind if I do!
(Also recovered: Goodbye, Chunky Rice, the Wheel of Time book I was looking for, and a metric ton of Magic cards.)
January 4th, 2012
|
by gale

Patbird got Skyward Sword for Christmas, and I've been enjoying watching him play! To be completely honest (and to my great disgrace), I… haven't ever actually played a Zelda game.  It's one of those things that gets enough media saturation that I feel like I have, and know enough of the key content to be conversant, kinda like how I managed to catch every part of Grease on TV without actually ever watching the entire movie in one go and have I been living under a rock? Maybe.
Here's what I do know: that I will darn well open other people's cupboards if I please.  Take that, video game!
January 2nd, 2012
|
by gale

Happy New Year, everyone!  In case you were wondering, PB and GS whiled away their New Year's Eve watching Lord of the Rings (stubble subtly hairy, still not King) and playing Summoner Wars (highly recommended, though they haven't tried the 4-player variant yet). Patbird has a few issues with certain too-strong-for-their-own-good cards, but he managed to claw his way out of the jaws of death and beat Galesaur every time, so yeah, whatever.
Here's to 2012, and to having two comics up this week! What madness the new year brings!
December 29th, 2011
|
by gale

This year, our darling husky revealed that not only could he suss out which presents were his (he has had a long-standing habit of seriously examining his stocking every half-hour for days leading up to the big event), but he could also open his own presents. Like, not the "om nom nom I will eat everything including the wrapping paper and ribbon" present-opening, or the "om nom nom I will destroy all of these packages indiscriminately" present-opening, but like "hey, this is totally a bone, let me carefully manipulate it with my paws and teeth until the treat has been revealed!" present-opening, which is both adorable and a little bit terrifying.  What am I here for, if not to tease you about how slowly I'm opening your delicious gift?
Sigh… they grow up too fast.
December 21st, 2011
|
by gale
Happy holidays, gang! Please enjoy a delicious weekend, hug some of your favorite people, and kick back with a mug of your preferred warm beverage (in the order of your choice, and not necessarily at the same time because gosh there is a disaster in there waiting to happen).
December 15th, 2011
|
by gale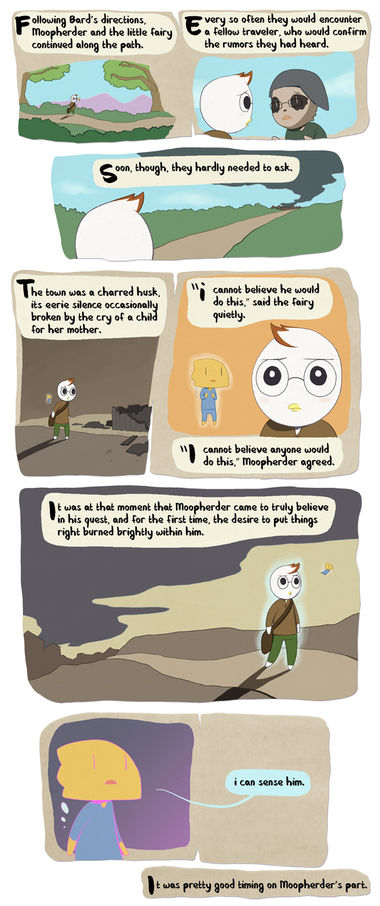 The reckoning draws near!  If you're just joining us, this is a very silly fantasy spinoff of our usual fare. Feel free to catch up over here, or click on the handy-dandy tag, whatever floats your boat.
Meanwhile, I'm going about the process of properly announcing that I have one of those newfangled tumblr things, it's pretty exciting! All of the Ryan Gosling, right on my dashboard, guys!
December 1st, 2011
|
by gale

In which Moopherder runs into an old friend. Things are starting to look kinda sinister!