Posts Tagged 'grad school'
6 items.
March 28th, 2013
|
by gale
December 12th, 2012
|
by gale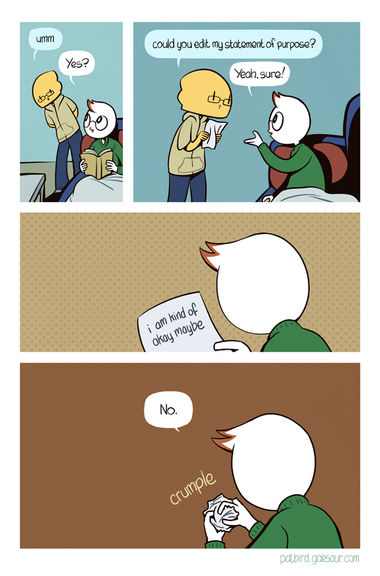 **note if you are reading this on December 20th! I'm working on today's, but it's kinda huge! Hopefully it'll be up by this evening, but I'll keep you posted on Twitter. :D
–
So… I'm in the process of applying to grad schools! Because Patbird's experience wasn't enough. It's kind of terrifying to say, especially following last night's dream in which I…
1) received a letter from a college
2) opened and read it while in a public restroom
3) discovered that it was a rejection letter
4) and then the stall I was in had no door, and a person I really admired walked by and commented on it?!
IS IT A TERRIBLE PORTENT OF THINGS TO COME??
December 5th, 2012
|
by gale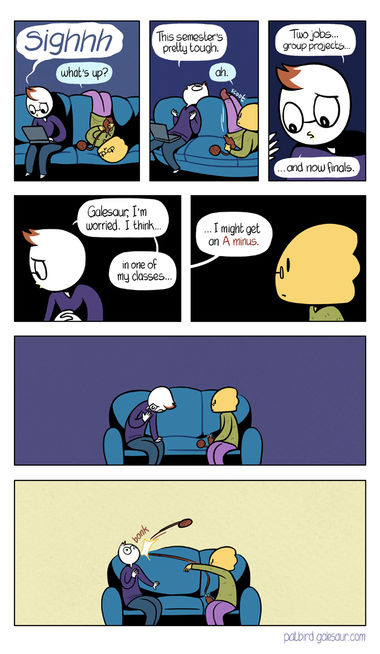 His GPA's gonna take a nosedive.
IN OTHER NEWS,  I AM SO READY TO GO THERE AND BACK AGAIN
OR, AT THE VERY LEAST, THERE
(I ASSUME THE BACK AGAIN MIGHT TAKE A FEW MOVIES)
September 27th, 2012
|
by gale

If you look closer into his eyes, you start noticing … things … swimming in there. Pieces of essays set adrift, cut to accommodate a maximum word count… fragments of readings skimmed, but not quite retained… nonsensical phrases like "equilibrium moisture content" and "maximum dimensional change"…
Halloween has come early this year, it seems.
April 19th, 2012
|
by gale
September 8th, 2011
|
by gale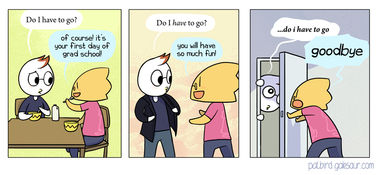 When Patbird and I first started hanging out, he was a fancy advertising guy and I was just barely halfway through college.  Things might not have worked nearly as well if he hadn't been willing to come over and chill while I desperately tore through my various animation projects, second by second by second.
Suddenly, role reversal!