Posts Tagged 'vidja'
9 items.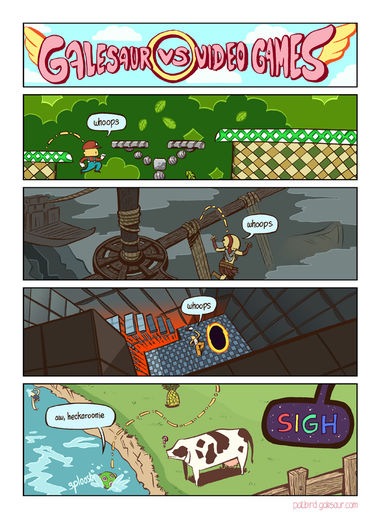 PLAAATFORMIIINGGGGGGGGG
I like to think that a lifetime of this has contributed to my patient, positive-outlook personality. Buuuuut maybe you don't want me on your New Super Mario Bros team. Or your 'Splosion Man team. Or your Little Big Planet… look, all I'm saying is, if you actually want to get somewhere within a reasonable amount of time, I am not the best choice, and that is okay.
March 14th, 2013
|
by gale

*flips table*
(Full disclosure: I would never toss my 3DS around! It is darling.)
Also, BONUS - there are two pages this week! I uploaded this comic back-to-back with the stunning conclusion to our Toronto trip. Don't miss it!
January 30th, 2013
|
by gale
September 12th, 2012
|
by gale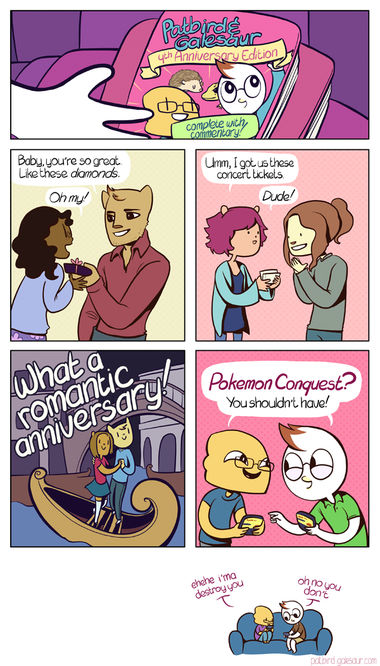 >w< Another lovely year with my favorite bird! I'd say more, but there are kingdoms that need conquering.
March 9th, 2012
|
by gale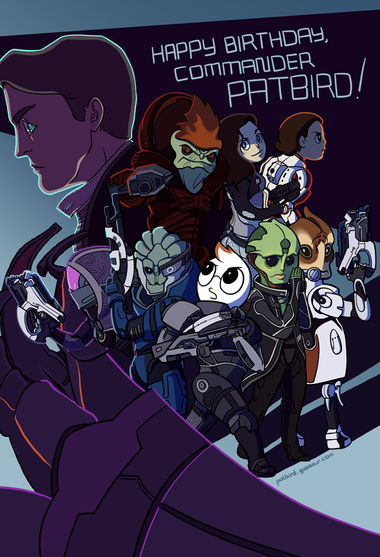 Oh man, guys, sorry for the wait! D:
In official-type news, I am pleased to announce that Patbird survived his birthday punches, and that he and his shiny new copy of Mass Effect 3 are getting along swimmingly. You go, Patbird! Show those Reapers what's up!
January 19th, 2012
|
by gale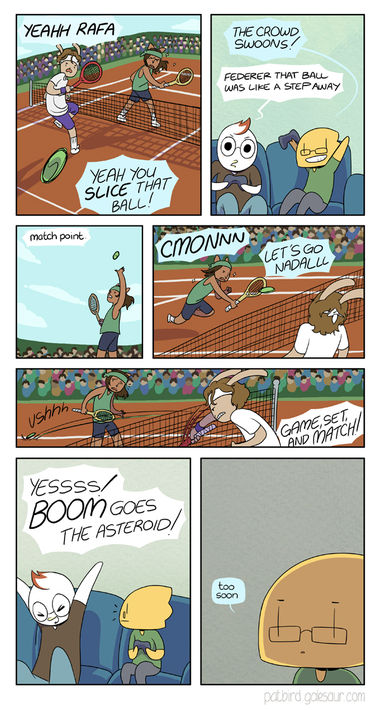 "BOOYA! GO BACK TO JURASSIC PARK!"
"I beat you so hard you exploded into dust and blocked out the sun!"
"You are obviously related very closely to the chicken! WAIT SO AM I, NEVER MIND"
January 4th, 2012
|
by gale

Patbird got Skyward Sword for Christmas, and I've been enjoying watching him play! To be completely honest (and to my great disgrace), I… haven't ever actually played a Zelda game.  It's one of those things that gets enough media saturation that I feel like I have, and know enough of the key content to be conversant, kinda like how I managed to catch every part of Grease on TV without actually ever watching the entire movie in one go and have I been living under a rock? Maybe.
Here's what I do know: that I will darn well open other people's cupboards if I please.  Take that, video game!
March 3rd, 2011
|
by gale
I would apologize, but I get the feeling that somewhere between the chock and the Koffing, you guys might have stopped believing me.
And exciting news: Patbird's birthday is on Monday!  So you can look forward to next week's comic being either an incredible cake-filled adventure or a sordid account of how he chooses to express his quarterlife crisis.
please don't destroy the caaaake